The SMFA Library's Zine Collection showcases self-published zines and other multiples made by the SMFA community (SMFA students, faculty, staff, and alumni). Material in the collection is intended to serve as a source of research, learning, and inspiration and as a record of community work. The collection also includes zines and multiples created outside of SMFA, which are intended to supplement community publications in terms of style and content.
Zines can be checked out! Find them in JumboSearch and request them for pick-up, or visit the library and browse the collection. You can learn more about zines on our related research guides, Zines and Alternative Publishing and Zines by Subject.
If you make zines, don't forget we accept donations and make purchases to expand this collection! Contact the SMFA Library if you'd like to add your work to our shelves, or submit a donation using our online form. 
Image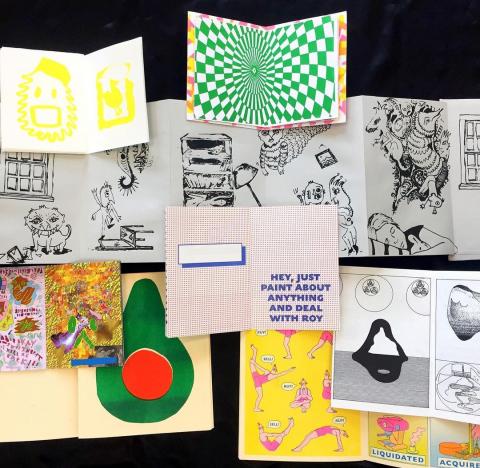 Image
Image