Image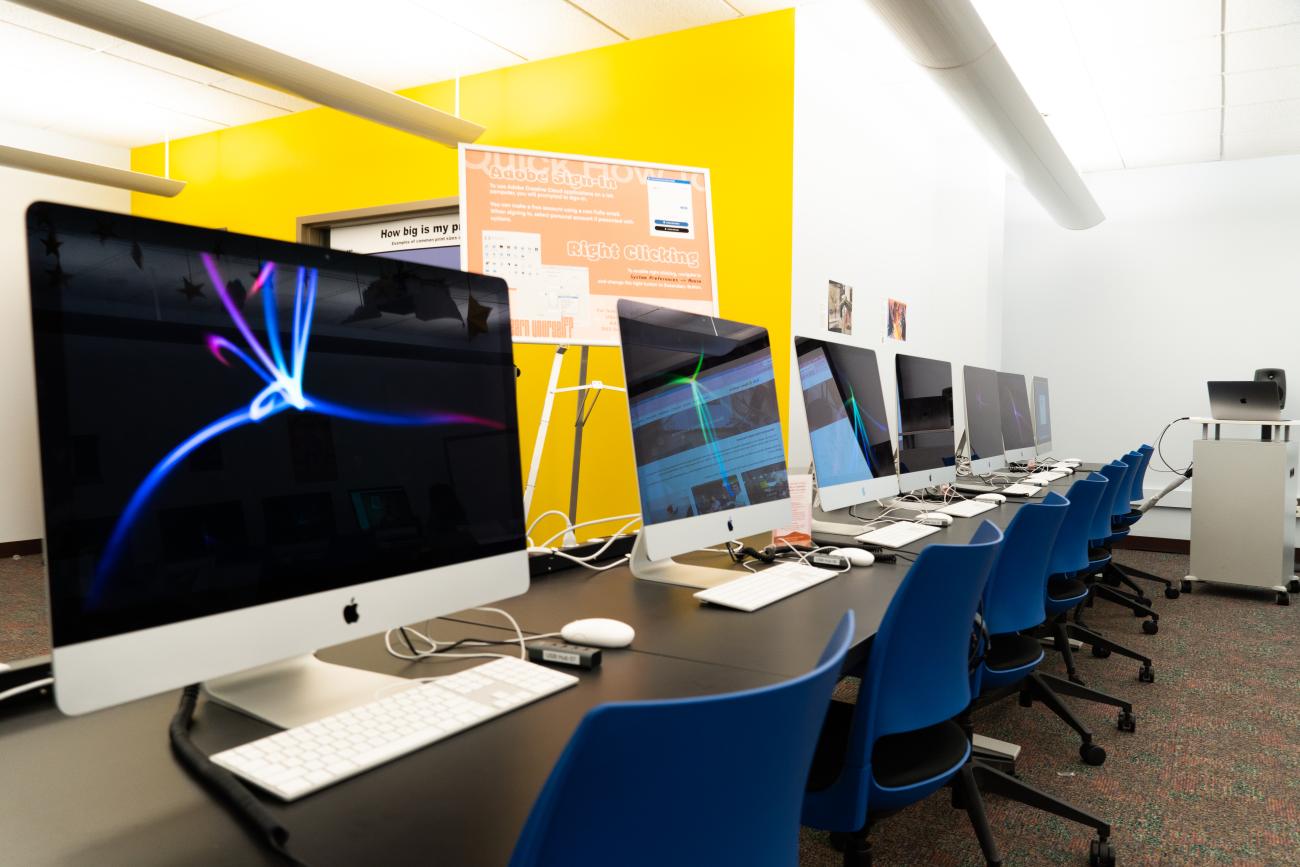 The Digital Design Studio (DDS) is an educational space for entry into digital design, focused on audio and video production, as well as visual design. We support student projects for courses and research, as well as extracurricular work by students, faculty, and staff. The DDS is managed by the Digital Scholarship department of Tisch Library.
During DDS service hours, the studio space is staffed by student Studio Assistants to guide you through access to our services, troubleshoot software, offer design feedback, and help you get your questions answered.
In our space, you can:
Design, collaborate, and study in our teaching and learning space, which has 16 computers with design software as well as modular tables for offline work (or for working on your own laptop!). When not in use for workshops, our teaching and learning area is open for all Tufts community members to use. 

C

onvert

items from legacy, physical, or analog formats

into

digital formats that can be shared, edited and built upon. We provide equipment and training for self-service digitization of

film negatives, positives and slides,

VHS,

Hi8, DVD, CD, Blu-ray, and vinyl, as well as photographs and other documents.

Reach out to us or drop in to get started!

Reserve our

recording room

for

basic audio and video projects, such as podcasting, voice-over narration, and interviewing.

Print posters on our

large-format

inkjet

print

er

, which we operate for you by appointment.

Our Epson T7270 printer is primarily for academic research posters but can also support photographic prints and signage. For other needs, like booklets, brochures, or flyers, you may be interested in Tufts Print/Copy or the SMFA's Advanced Production Lab.
Request 3D printing, by submitting a file for us to print for you

. We'd love to consult with you about your 3D printing designs! (If you want to 3D print things yourself, you'll be interested in going to

the Nolop lab

.)
Questions? Get in touch with the DDS.  
Adobe Creative Cloud, including:

Acrobat DC

After Effects 2022
Animate 2022

Audition 2022

Bridge 2022

Character Animator 2022

Dimension

Dreamweaver 2021

Illustrator 2022

InCopy 2022

InDesign 2022

Lightroom CC

Lightroom Classic

Media Encoder 2022

Photoshop 2022

Premiere Pro 2022

Premiere Rush 2.0

XD

Adobe Substance 3D Suite

Substance 3D Designer
Substance 3D Painter
Substance 3D Sampler
Substance 3D Stager

Blender (version 3.2.1)
DaVinci Resolve 18
EndNote 20

Epson Scan 2

Figma

Final Cut Pro, including

Garag

e

Band

HandBrake (being added)

IBM SPSS Statistics 28
Sony Imaging Edge Desktop

(being added)

iMovie

Mathmatica 13.1
MATLAB R2022a
Maxon Cinema 4D R25
Mendeley Desktop

Microsoft Office Suite, including:

Word

Excel

PowerPoint

OneNote

OpenRefine
QGIS 3.26.1
QuickTime Player
R and RStudio 4.2.1
Stata
TeXShop and LaTeXiT
VLC Media Player
VMWare Horizon Client for accessing the Tufts Virtual Lab (VDI). See a list of applications available through the VDI.
In the teaching and learning lab space:
16 27-inch iMacs

Display: Retina 5K

Processor: 4.2 GHz Quad-Core Intel Core i7
Memory: 32 GB 2400 MHz DDR4
Graphics: Radeon Pro 8 GB

16 Sony MDR-7506 Headphones
16 Anker 4-port USB 3.0 hubs
Available for use in the space by asking at the DDS welcome desk during DDS service hours:
Available to use by request or appointment:
Available in the recording room:
See the recording room webpage for recording room hardware specs.