What is a blackout poem? Chances are you've seen it: a full page of text that has been "redacted"—or crossed out—with a thick, black permanent marker, leaving only a few visible words scattered across the page. 
Image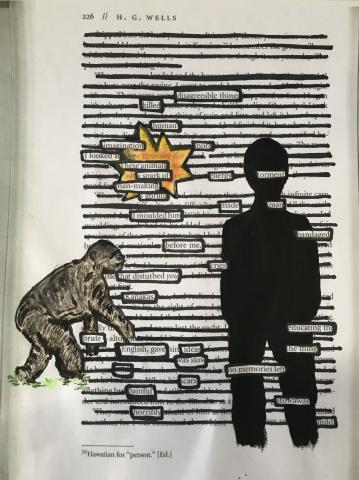 A key thing to remember about a blackout poem is that the text AND redacted text form a sort of visual poem.
The words for blackout poems are already written on a printed page and taken from another text, but it's up to the blackout poet, to bring new meaning and life to these words.
This fall, Professor Modhumita Roy's Black World Literature class was tasked with creating their own blackout poetry. The students were given the choice to work from a page out of one of three different texts: H.G. Wells' The Island of Dr. Moreau (1896), H. Rider Haggard's She (1887), and Joseph Conrad's Almayer's Folly (1895). By redacting, and manipulating the texts of these canonical British novels written at the height of the Empire, students were able to defamiliarize and recontextualize the language, producing new meaning and giving voice to marginalized narratives that would otherwise go unimagined.
The material process through which these new blackout poems were created yielded some beautiful pieces which are on display in the lobby of Tisch Library.