Mon, Aug 30th 2021 - Sat, Jul 02nd 2022
After eighteen months of social distancing and Zoom living, we welcome you back to campus with a group of new additions to the Tufts University Permanent Art Collection that collectively remind us of the importance of being present.

Borrowing its title from Harry Dodge's poignant drawing We Exceed Our Skins, this exhibition points to the ways in which we are interconnected with one another and the material world around us. Each of these drawings emphasizes the body—our bodies—through language, visible traces of gestures, and forms and scales that echo and evoke the human figure. In
Dodge's hands, objects like a camping LifeStraw and spray paint can wax poetically about the limitless borders of our consciousness. Rodney Ewing's monumental works on paper mark the historical trauma of racial violence, while Suzanne McClelland and Alix Pearlstein's printed jacket is a form of wearable protest art, acknowledging the women who have publicly accused Donald Trump of sexual harassment.

Together, these works address the power of our physical selves to remember, to protest, to speak, and to make a mark.
Image 1: Graham, Julie
Untitled
1999
Mixed media and collage on paper
2018.010
Tufts University Permanent Collection: Gallery Purchase
Image 2: Dodge, Harry
Notes on Thought-Objects
2018
Ink on archival Bristol board
2019.02.01
Tufts University Permanent Collection: Gallery Purchase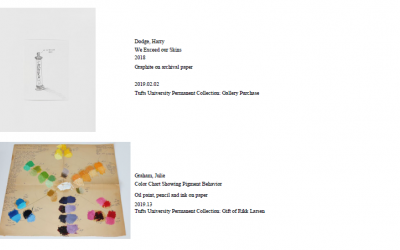 Image 1: Dodge, Harry
We Exceed our Skins
2018
Graphite on archival paper
2019.02.02
Tufts University Permanent Collection: Gallery Purchase
Image 2: Graham, Julie
Color Chart Showing Pigment Behavior
Oil paint, pencil and ink on paper
2019.13
Tufts University Permanent Collection: Gift of Rikk Larsen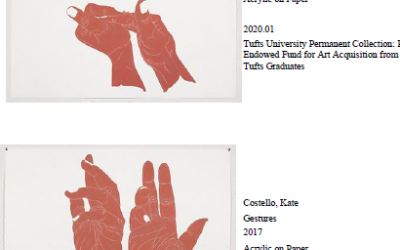 Image 1: Costello, Kate
Gestures
2017
Acrylic on Paper
2020.01
Tufts University Permanent Collection: Purchase from the Dr. Joan M. Henricks, J69
Endowed Fund for Art Acquisition from
Tufts Graduates
Image 2: Costello, Kate
Gestures
2017
Acrylic on Paper
2020.02
Tufts University Permanent Collection: Gift of the Artist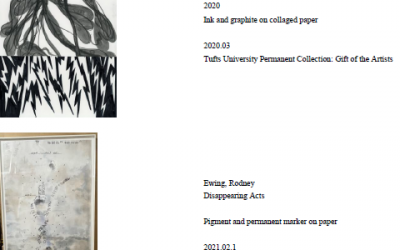 Image 1: Jedediah Caesar, A98
Nathan Carter, A95, SD96, C97
Kate Costello, A98
Exquisite Corpse Project for the SMFA at Tufts: Powerful/Impact/Boom
2020
Ink and graphite on collaged paper
2020.03
Tufts University Permanent Collection: Gift of the Artists
Image 2: Ewing, Rodney
Disappearing Acts
Pigment and permanent marker on paper
2021.02.1
Tufts University Permanent Collection: Gift from Dr. Joan M. Henricks, J69 and Alan
Henricks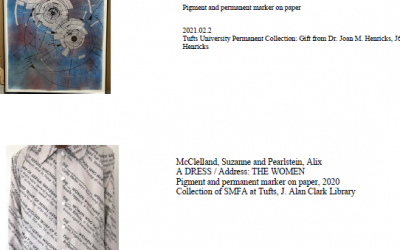 Image 1: Ewing, Rodney
Birmingham
Pigment and permanent marker on paper
2021.02.2
Tufts University Permanent Collection: Gift from Dr. Joan M. Henricks, J69 and Alan
Henricks
 
Image 2: McClelland, Suzanne and Pearlstein, Alix
A DRESS / Address: THE WOMEN
Pigment and permanent marker on paper, 2020
Collection of SMFA at Tufts, J. Alan Clark Library