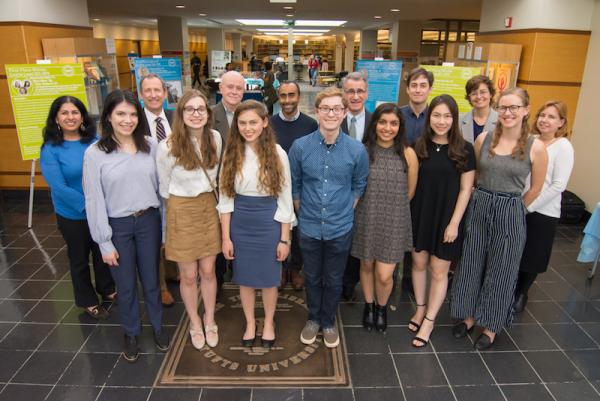 2019 TURA winners
Announcing 2022 Winners
Uyen Chu
"

America and the Digital Divide: Exploring Internet Accessibility and School Enrollment in the U.S."

CSHD146: Intermediate Statistics for Developmental Science (Fall 2021,Theo Klimstra)
Sofia Grose & Skyler Goldberg
Research for New Translations of Jean Bodin's Six Books of the Commonwealth 
Political Science: Independent Research (Summer-Fall 2021, Ioannis Evrigenis)
Christopher Tomo
"

Prevention of Childhood Asthma Among Families Living in Subsidized Housing"

CH0001: Introduction to Community Health (Spring 2021, Adolfo Cuevas)
Tiffany Xie
"Chinese Americans in the Eyes of the US Government"
HIST190: The Cold War (Fall 2021, Rachel Applebaum)
Purpose of the awards
Tisch Library offers awards to promote and recognize outstanding undergraduate use of the library's collections and services. These awards recognize the production of exemplary research projects by undergraduate Tufts students.
Award categories & formats
Prizes of $400 are awarded to projects in the following categories:
First Year Writing (ENG 1-4, Philosophy 2, or any course taken to fulfill the college writing requirement)
Sciences, Social Sciences, and Engineering
Arts and Humanities
Multimedia and Digital Scholarship
All formats are eligible, including research papers, videos, audio projects, posters, presentations, lab manuals, inventions, and business plans.
Winners can also
See a listing of past TURA winners
Who is eligible
All undergraduate students who are registered through the end of Fall 2021 are eligible
Projects completed any time in Spring 2021, Summer 2021, and Fall 2021 are eligible
Group projects are eligible (prizes will be split equally among group members)
How to apply
1) Complete Application, attaching your:
2) ​​Recommendation: Your course instructor or project advisor will need to recommend your application (be sure to ask early enough to ensure that they can complete the form by the deadline)
Application Deadline: March 13, 2022
Complete applications including recommendations must be submitted by the deadline. Incomplete or late applications will not be considered.
Evaluation Rubric and FAQs